How It Works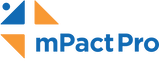 mPact Pro® is an immersive, state-of-the-art client management system that combines ingenuity with practicality in a way that helps your agency streamline client data and improve internal communications
Features
Customizable Dashboards

Users can set up tools and select links to facilitate the counseling process.

Unlimited Cloud Storage

Allows users to store and file unlimited data on the Podio platform.

Tasking

Delegate tasks to users and track completion.

Integrated Messaging

Make phone calls, send texts and make video calls from mPact Pro®.

Dynamic Filtering

Develop reports (in seconds!) on any and all data collected by mPact Pro®.

There's an App for That!

Have customized applications designed for your agency through the licensed mPact Pro® software.

Calendar Integration

mPact Pro® can integrate Google Calendar, Microsoft Exchange, Office 365 Business, and Office 365 Personal.

Real Time Updates

All data entry is time-stamped up to the second!

Self-Auditing

Data is logged, time-stamped, and thoroughly checked for reporting accuracy.